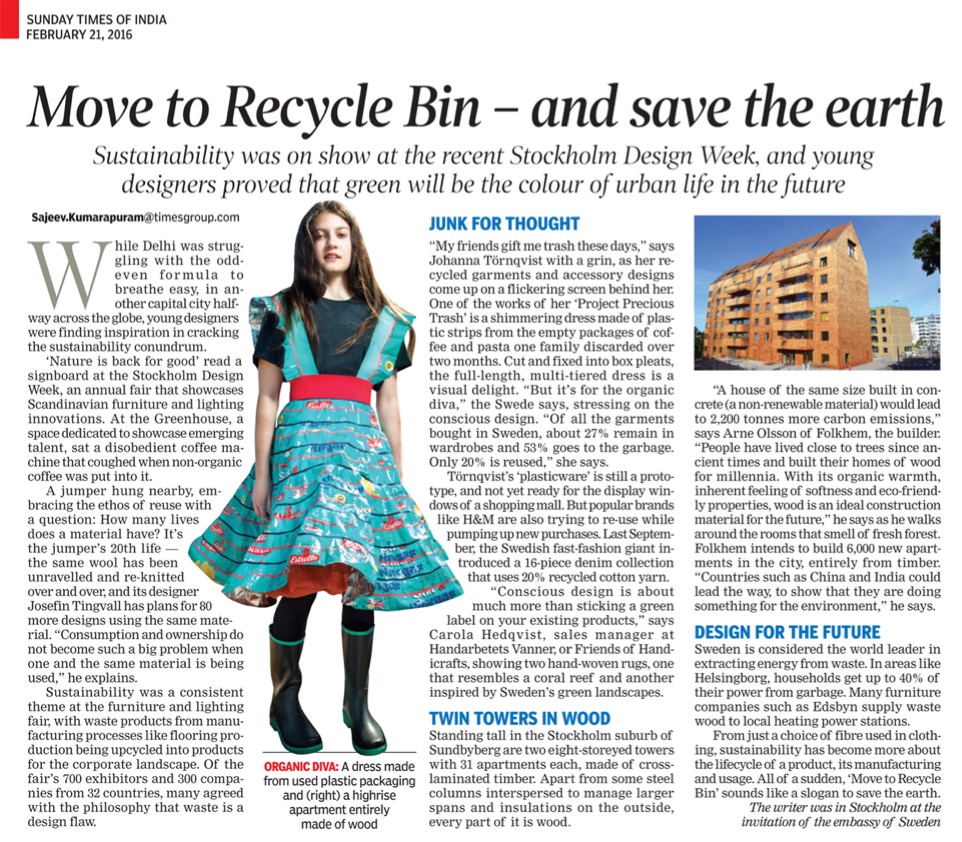 DECEMBER 2016
VÄVMAGASINET / SCANDINAVIAN WEAVING MAGAZINE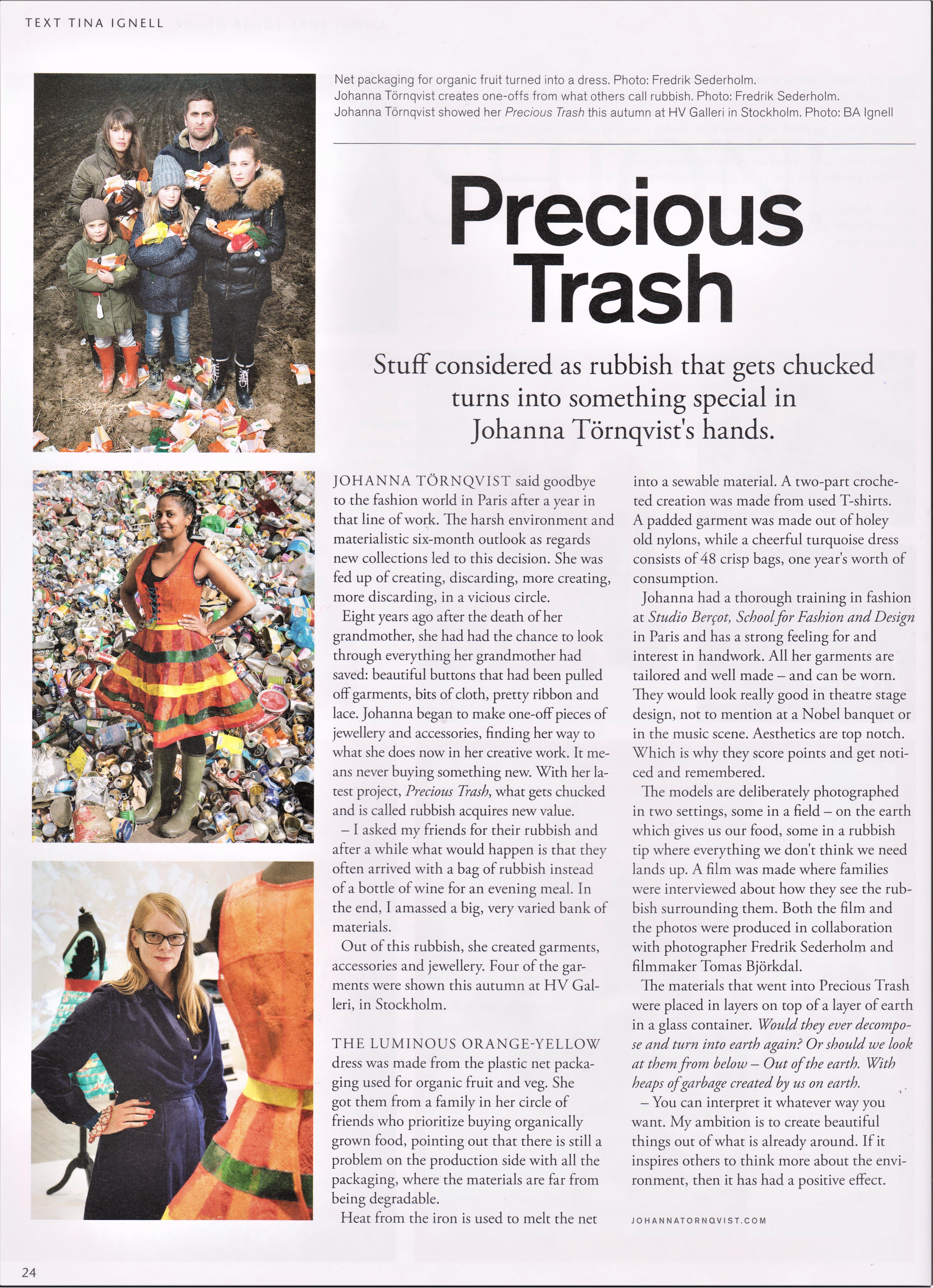 FORM MAGAZINE
Project Precious Trash, one of the best design events 2016.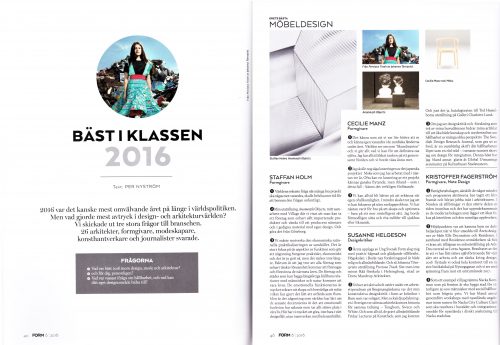 ACCLIMATIZE MODERNA MUSEET
Project Precious Trash the movie at Moderna Museet, Museum of Modern Arts website Acclimatize. Let us rethink climate. Be inspired by great artists and creative people from all over the world. Contribute your own thoughts and ideas on climate change.
Together we can imagine and create a sustainable future.

EXHIBITION BLACK BOX
Exhibition in Philmont, New York.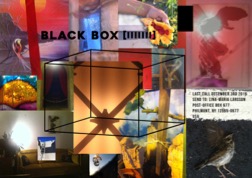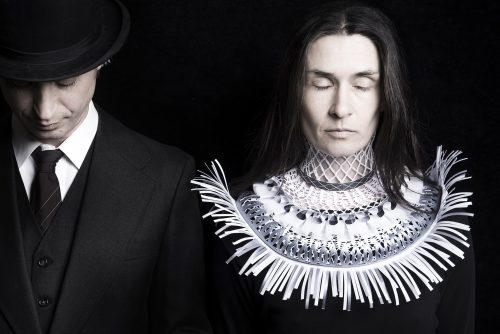 NOVEMBER 2016
DESIGN S SWEDISH DESIGN AWARD TO PROJECT PRECIOUS TRASH
Johanna Törnqvist uses crafts and craftsmanship as a platform to create public opinion on issues with major social challenges.
With care and heart she transforms trash into pure gold. The friction between the material and craftsmanship is leading to an inclusive meeting with the viewer. Craft as politics.
READ MORE Premierade KONSTHANTVERK & HANTVERK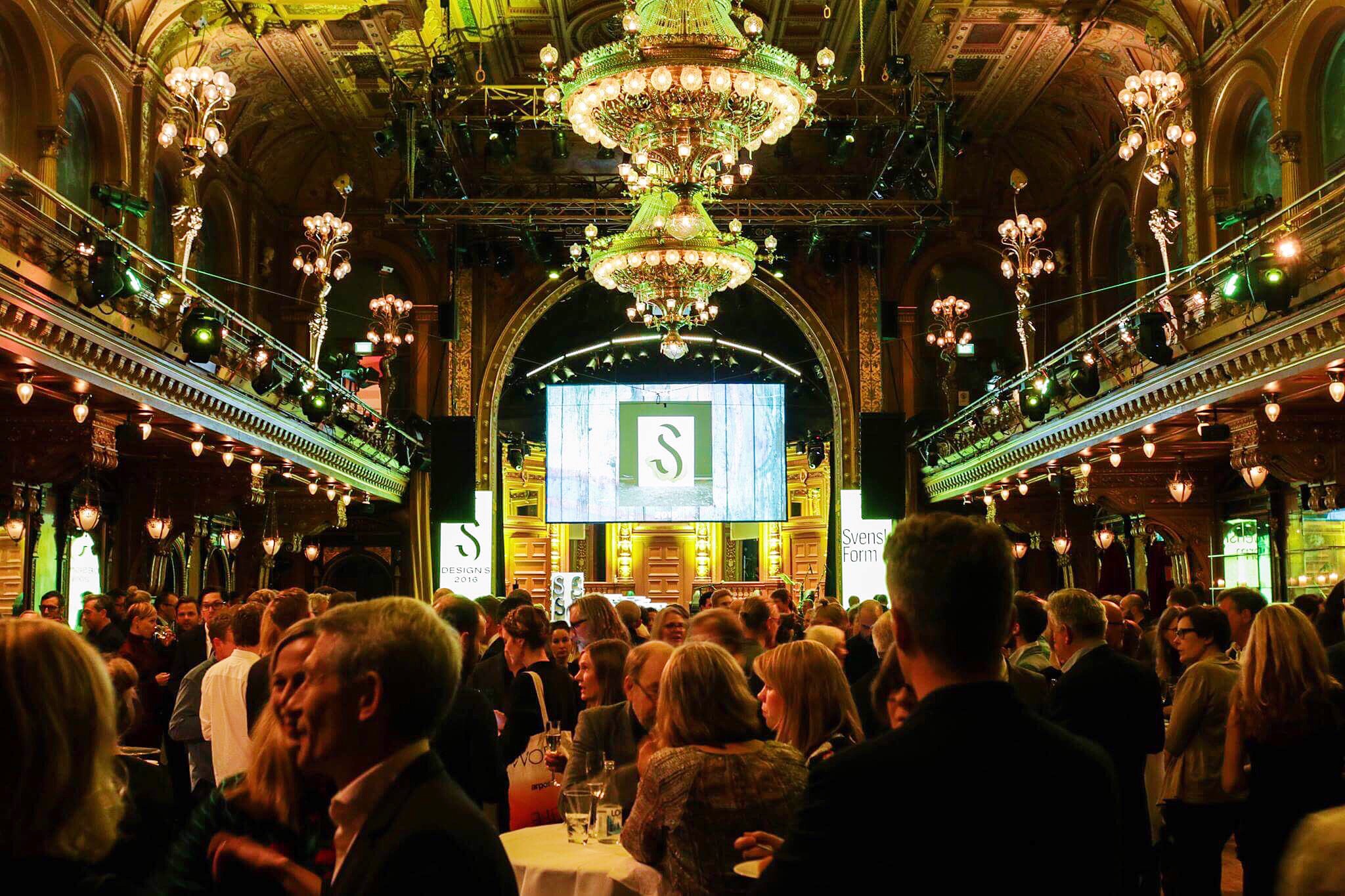 ARTICLE IN ESKILSTUNA-KURIREN
Workshop at Retuna Återbruksgalleria recycling shopping mall.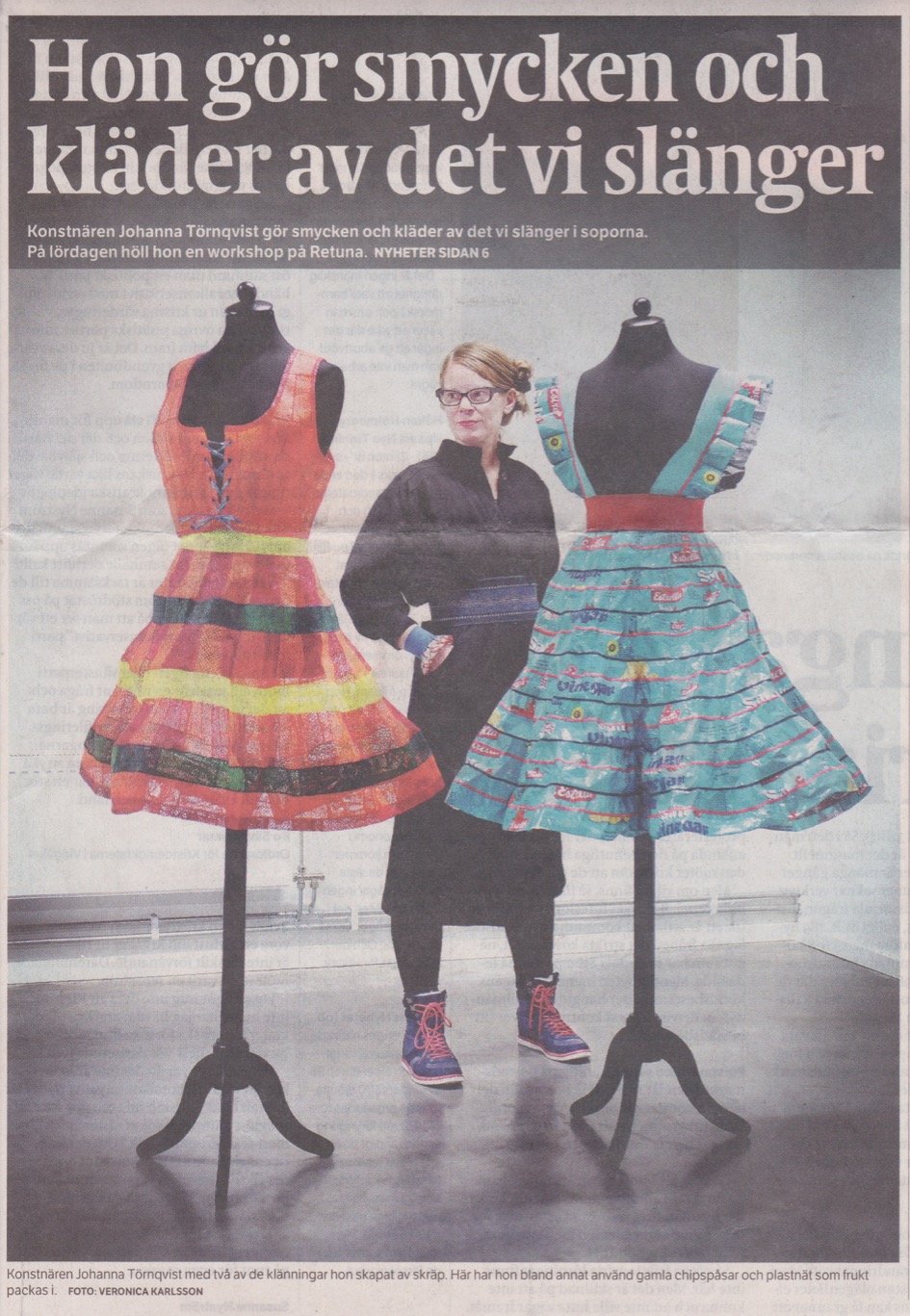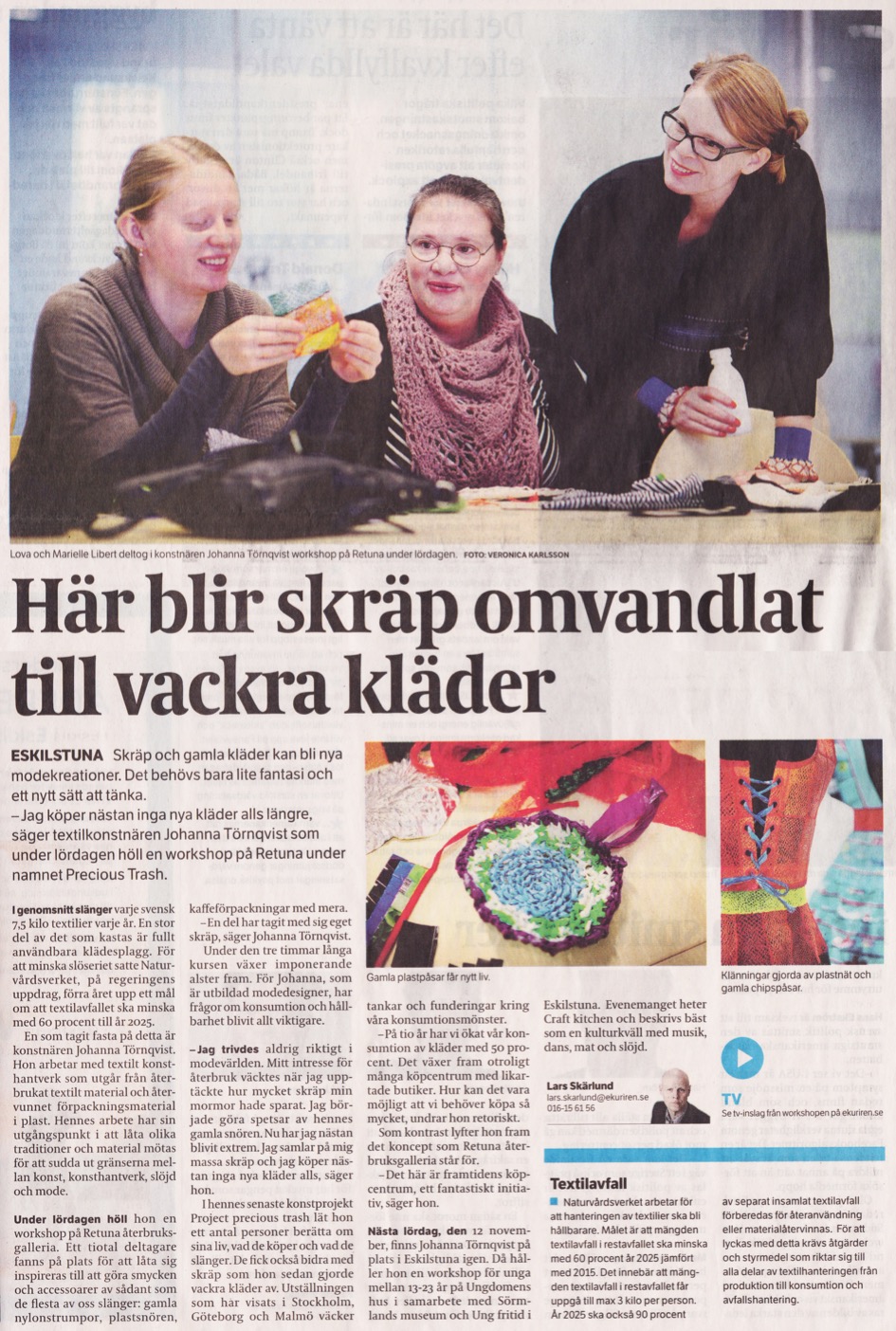 ARTICLE IN SÖRMLANDSBYGDEN
Workshop at Retuna Återbruksgalleria/recycling shopping mall.
READ MORE Kreativt av vårt skräp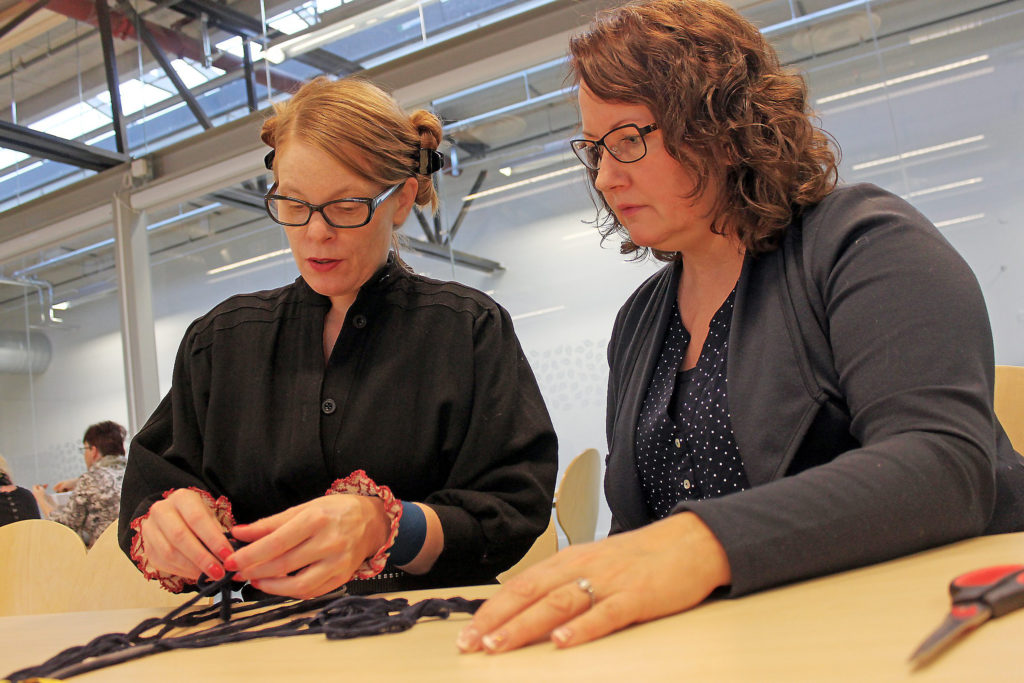 OCTOBER 2016
ARTICLE IN MIMARIZM
Article about the fashion and sustainability workshops for the exhibition at the 3rd Istanbul Design Biennal, Istanbul.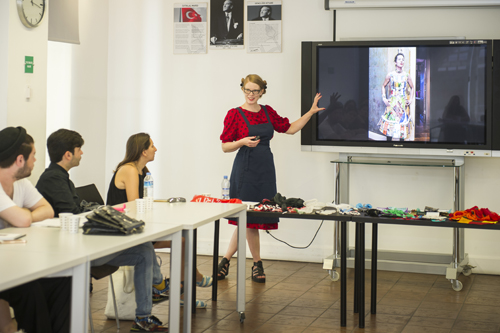 ARTICLE IN DAILY SABAH ARTS
Article about the 3rd Istanbul Design Biennal and Precious Trash workshop.
Read more here: Istanbul Design Biennial questions man's relation with design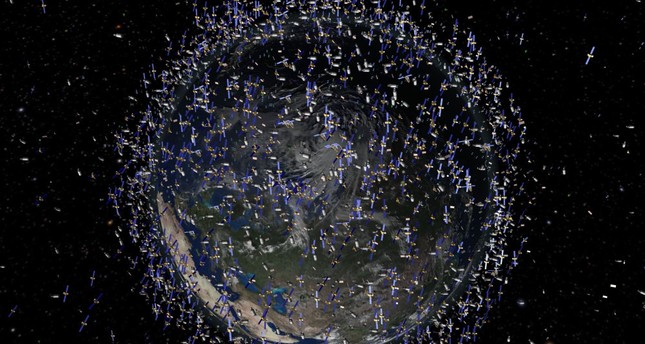 3rd ISTANBUL DESIGN BIENNAL
The final exhibition of the fashion/sustainability workshop in Istanbul in June 2016.
In collaboration vid H&M, 3rd Istanbul Design Biennal, Consulate General of Sweden and the Swedish Institute.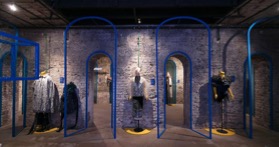 ARTICLE IN DAGENS NYHETER ABOUT SWEDISH DESIGN AWARD
About Design S and Project Precious Trash at ArkDes, Museum of Architecture and Design.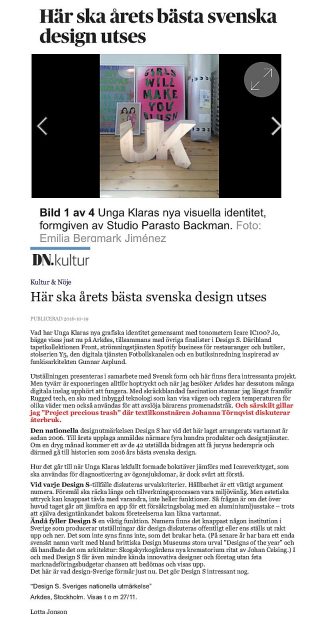 EXHIBITION DESIGN S 
At ArkDes Museum for Architecture & Design.
Project Precious Trash nominated for Design S, Swedish Design Award 2016.
READ MORE about the nominated projects here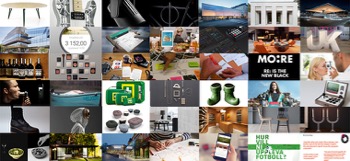 SEPTEMBER 2016
ATICLE IN SYDSVENSKAN
Project Precious Trash at Form/Design Center.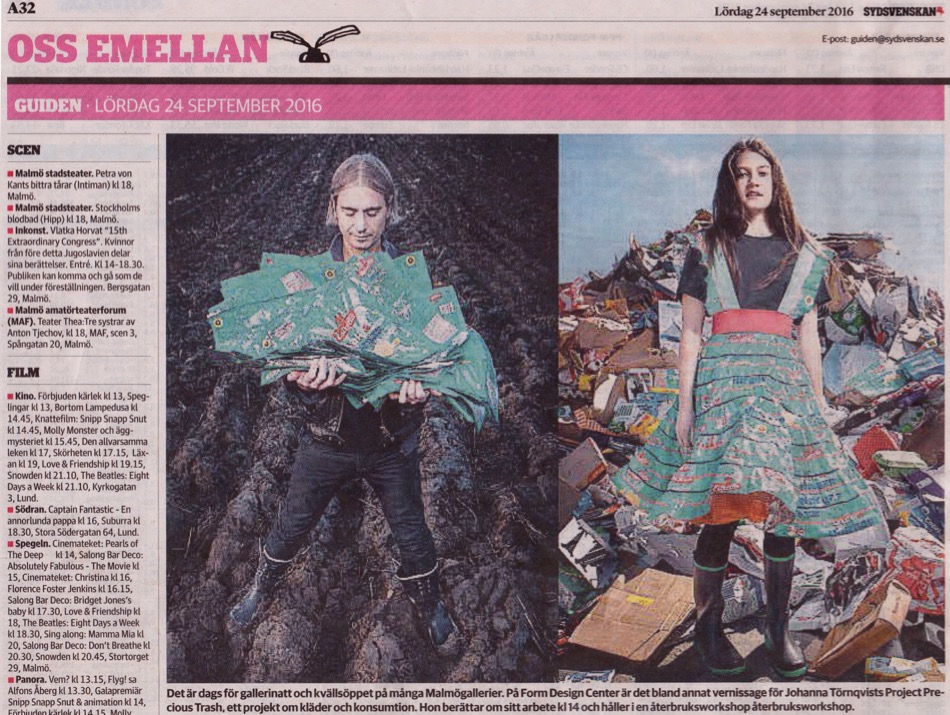 ARTICLE IN SÖRMLANDS NYHETER
Chronicle about fashion and sustainability by Johanna Törnqvist.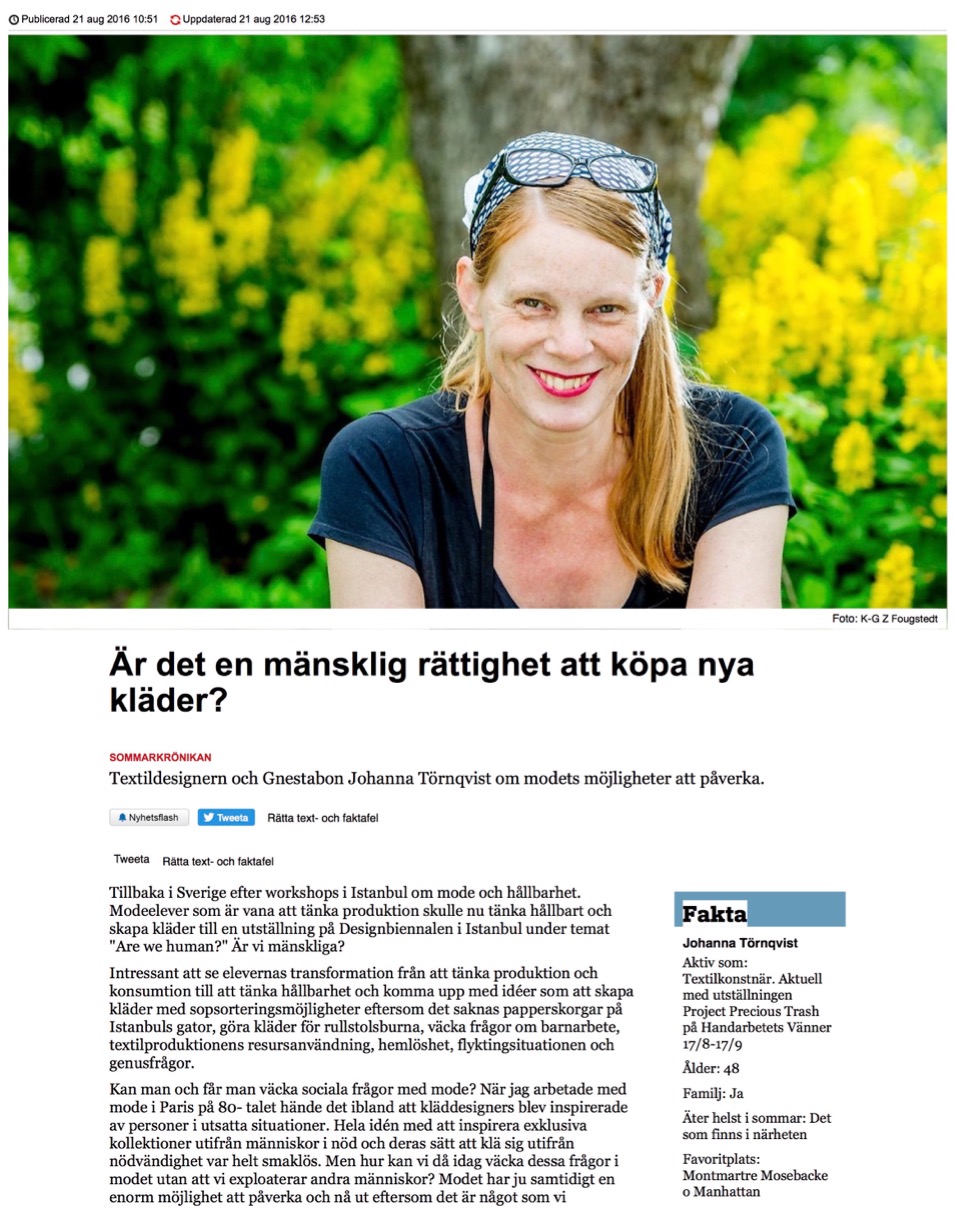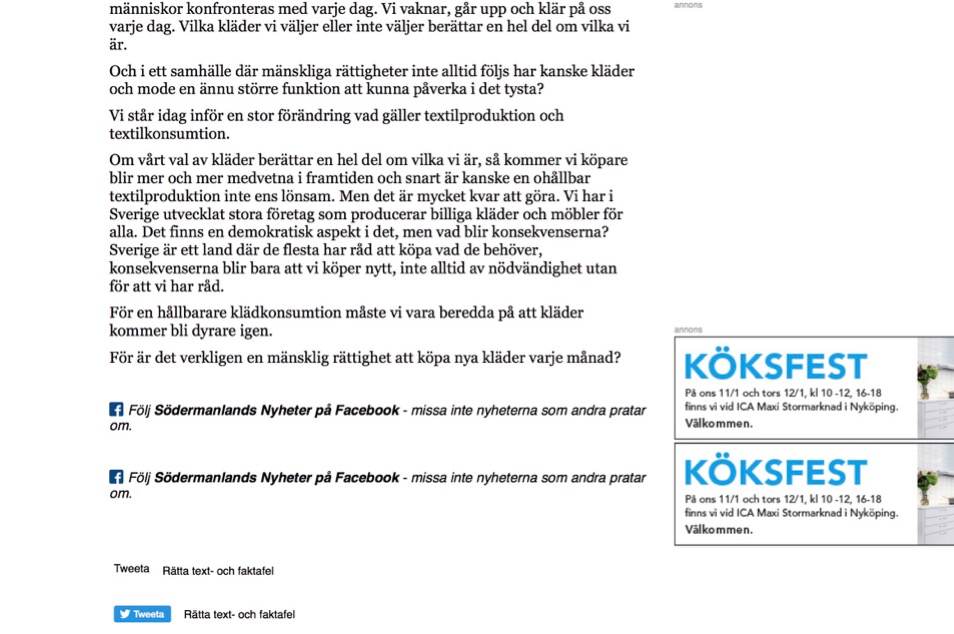 ARTICLE IN KURBITS BLOG
Featured at Kurbits blog about arts and craft (Swedish):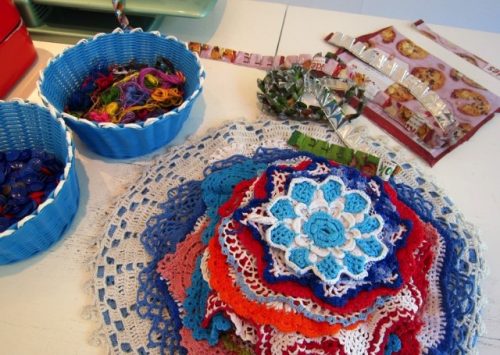 BLOG INTERVIEW – THE WAVES WE MAKE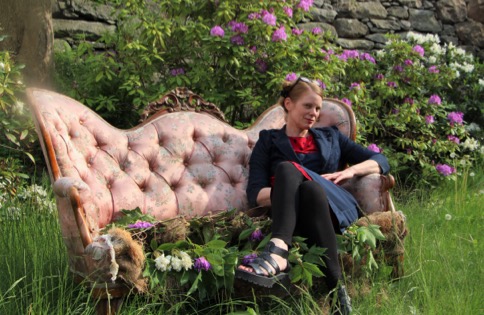 FORM/DESIGN CENTER
PROJEKT PRECIOUS TRASH Solo exhibition
Opening 24th of September 2016.

ARTICLE IN DAGENS NYHETER
"Precious trash" at  Handarbetets vänner/ HV Gallery
Read the review here (for subscribers of DN)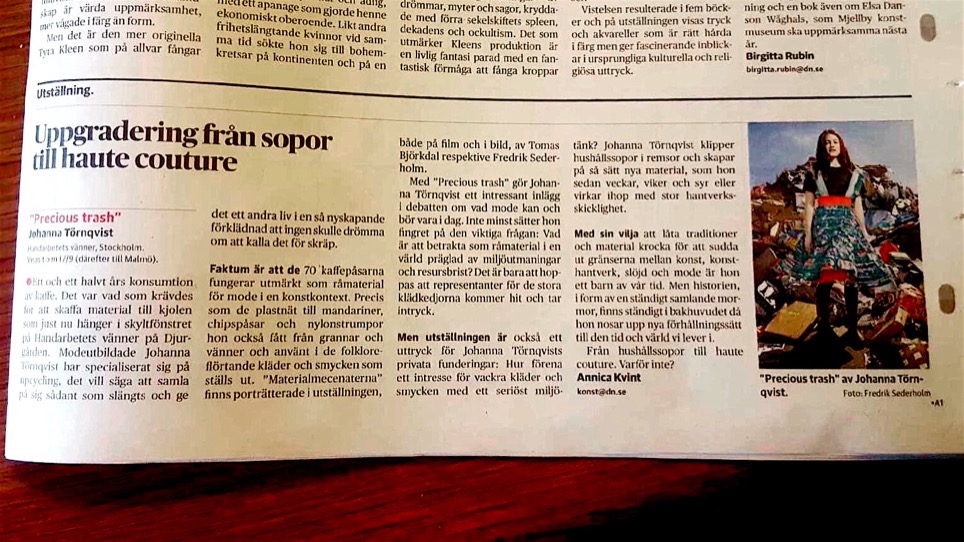 ORSA KULTURHUS
Konsthantverkarna POP_IN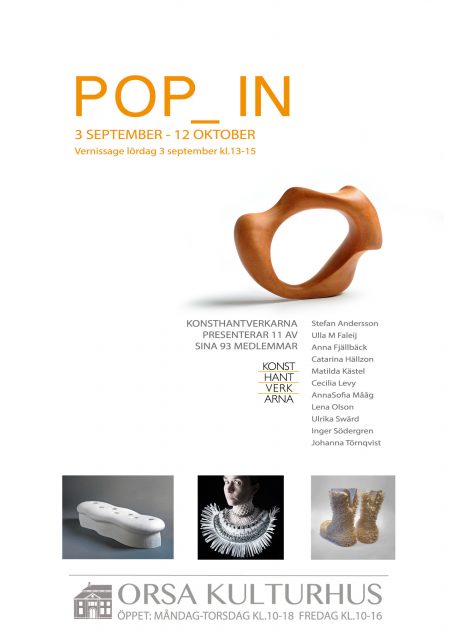 AUGUST 2016
ARTICLE IN SYDSVENSKAN
Skräp blir mode / Trash becomes fashion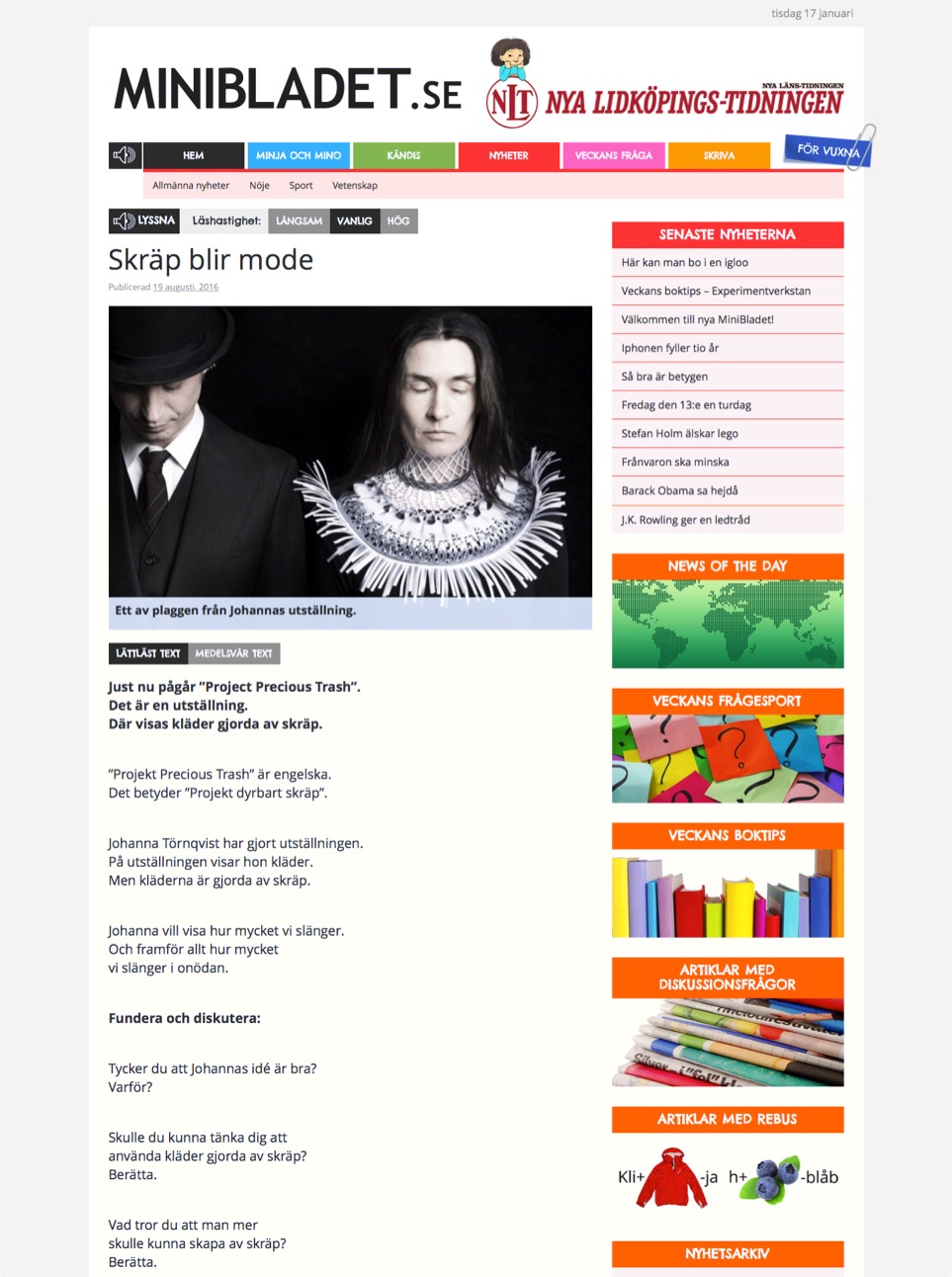 SWEDISH TELEVISION, KULTURNYHETERNA SVT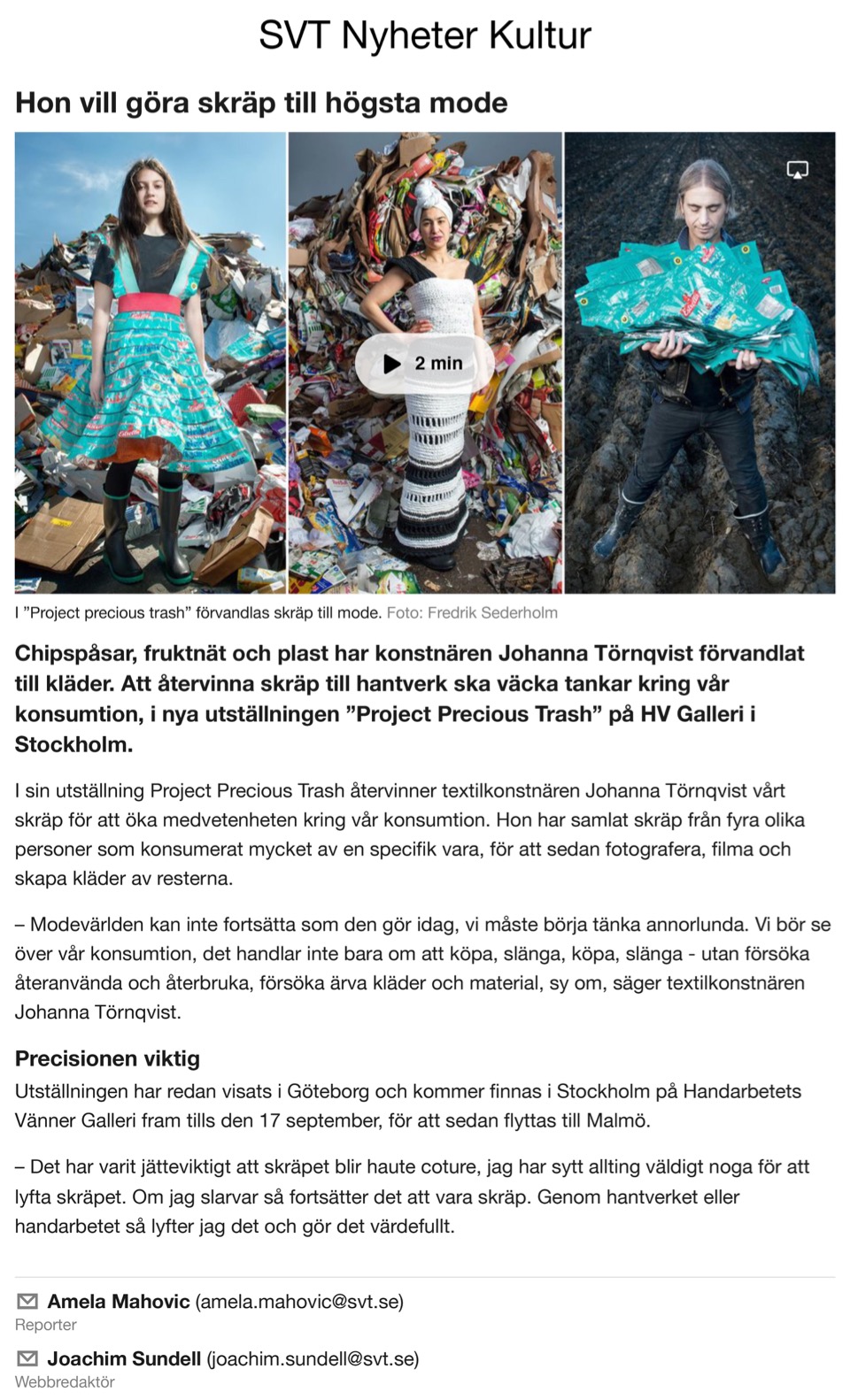 SWEDISH RADIO – SR P5 STHLM
Johanna skapar kläder av skräp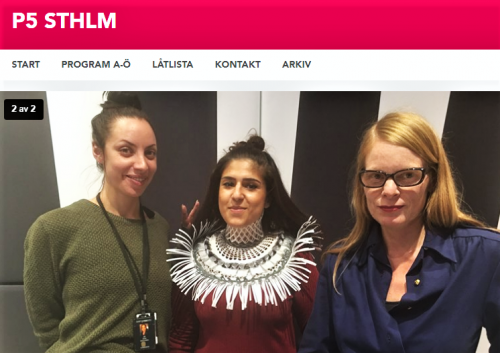 PROJECT PRECIOUS TRASH AT HV GALLERY
Solo exhibition at HV Gallery, Handarbetets Vänner, Stockholm.
A project about clothes and consumption. In collaboration with Tomas Björkdal, film and Fredrik Sederholm, photo.
17th of August – 17th September 2016. Opening 17th of August 16-18:00.
Project Precious Trash på Handarbetets Vänner Galleri
Ett projekt om kläder och konsumtion av Johanna Törnqvist.
"Med ett ben förankrat i hantverket och folkkonsten och ett stadigt fast i konsumtionskritikens mylla bygger Johanna Törnqvist inte bara ihop tradition och samtid, utan sätter också fingret på värderingen av vår tids material. Hon flirtar med folkdräkten och dess historia men går samtidigt emot den i ett gränsland mellan konsthantverk, slöjd, mode och konst. Johanna Törnqvist hittar i sitt arbete guldkornen i återbruket, i materialet som blivit över. Med hantverksskickligt utförande förvandlar hon det till något förädlat och vackert, ofta med eftertanke."

JUNE 2016
EXHIBITION GRÄNSFALL at RÅNÄS SLOTT
8th ofJuly – 14th of August 2016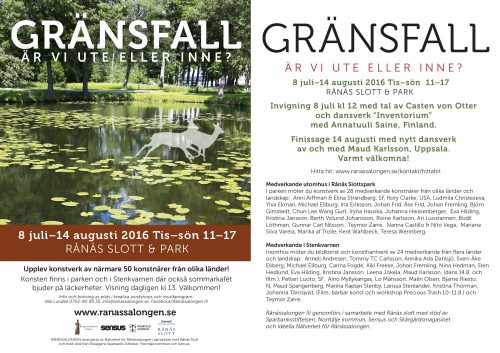 CORA MAGAZINE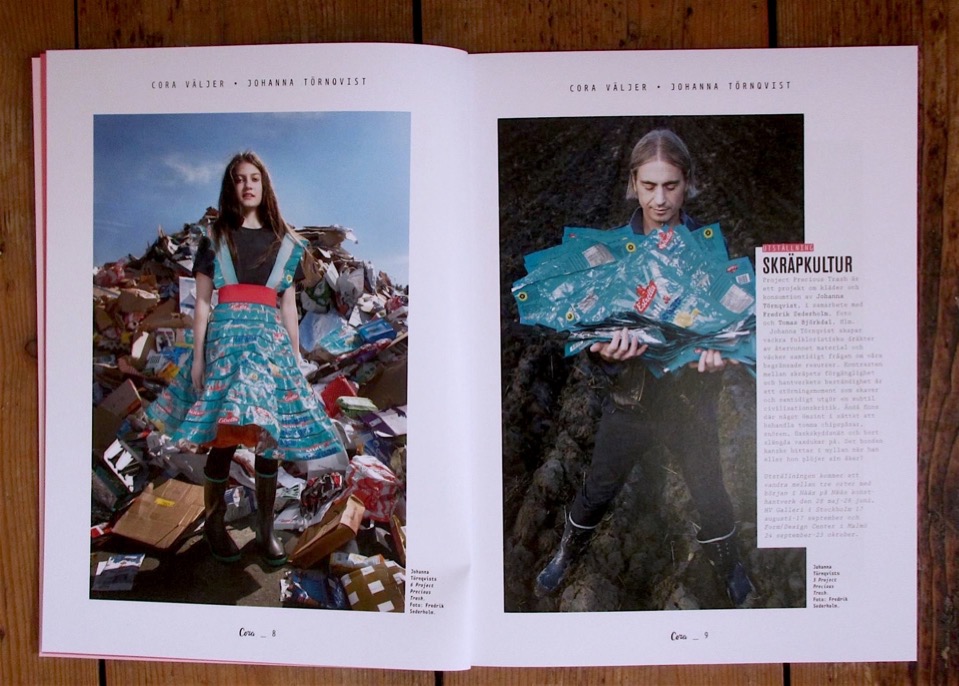 SÖRMLANDS NYHETER
Chronicle about fashion and sustainability written by Johanna Törnqvist.
SUSTAINABILITY WORKSHOP FOR H&M in ISTANBUL
Lecture and workshop in fashion and sustainability at Istanbul Moda Academy in Istanbul. A collaboration between Consulate General of Sweden in Istanbul, Istanbul Foundation of Art and Culture, H&M, Istanbul Design Biennal and the Swedish Institute.
More information about the Biennal: 3rd Istanbul Design Biennial: Are We Human?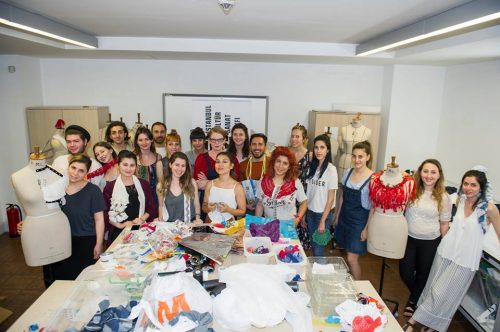 ARTICLE IN LERUMS TIDNING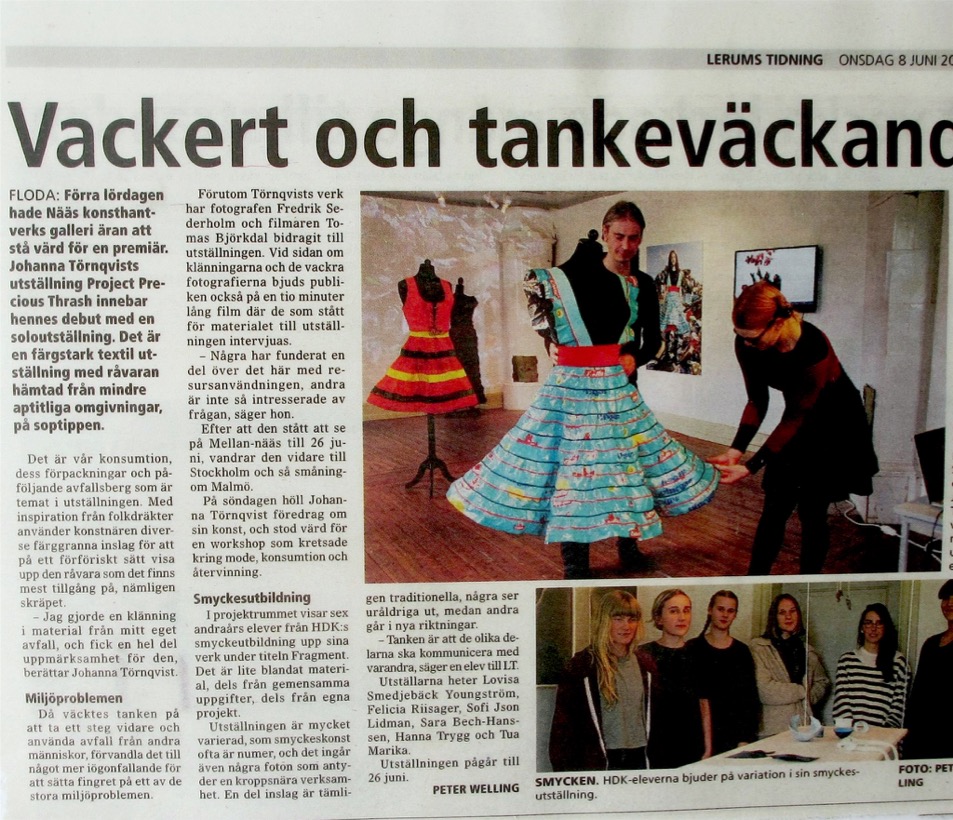 ARTICLE BY ROSETTE FARES
TRASH BECOMES PRECIOUS; WHEN DESIGN IS IN THE HEART OF SOCIETY
A Swedish jewelry and garment designer has turned trash precious. This sounds very weird; doesn't it? In brief, JOHANNA TÖRNQVIST is a designer who creates jewelry and garments out of recycled textile and plastic material. She collects waste produced by the daily consumption of her family and friends, turning this worthless material into valuable fashionable products.
Johanna treats the trash in the same precise way that fashion designers follow in Haute Couture; she refines trash, weaves, and stiches waste material together, and the end result is valuable beautiful products. This is known as up-cycling.
Meeting Johanna at the Swedish Institute in Stockholm was a brand new and inspiring incident….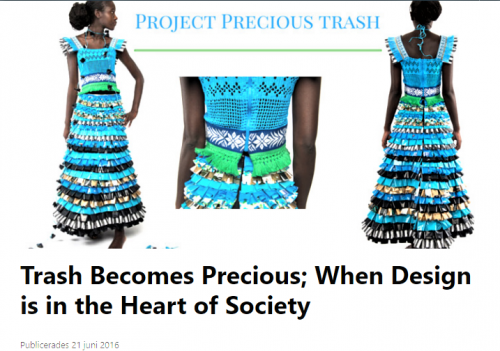 ARTICLE IN SÖRMLANDSBYGDEN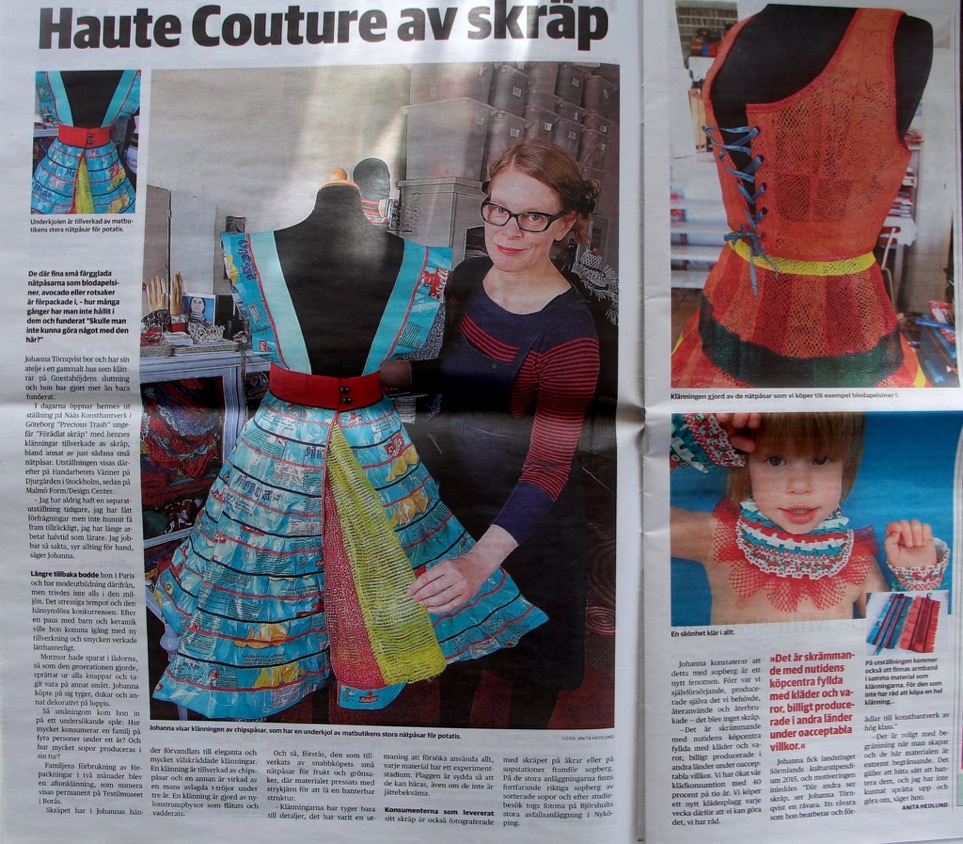 TARA MAGAZINE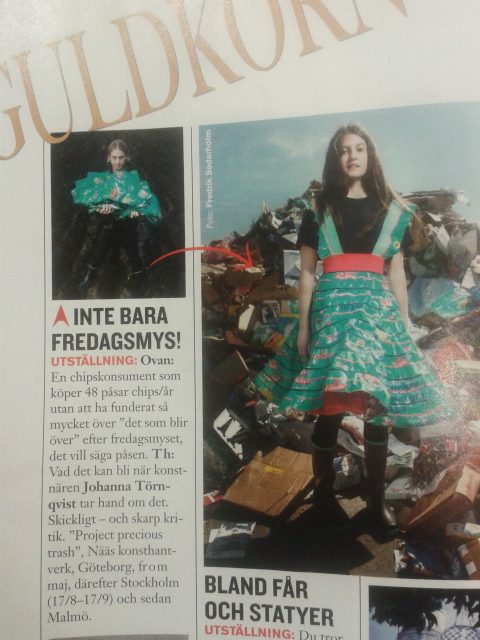 MAY 2016
SOLO EXHIBITION PROJECT PRECIOUS TRASH
A project about clothes and consumption. In collaboration with Tomas Björkdal, film and Fredrik Sederholm, photo.
28th of May – 26th of June 2016.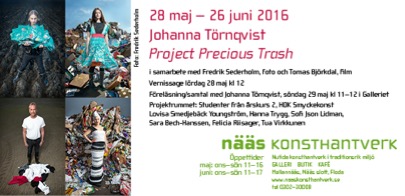 APRIL 2016
GREEN ROOM at TEKNISKA MUSEET
Part of the exhibition Spelet om energin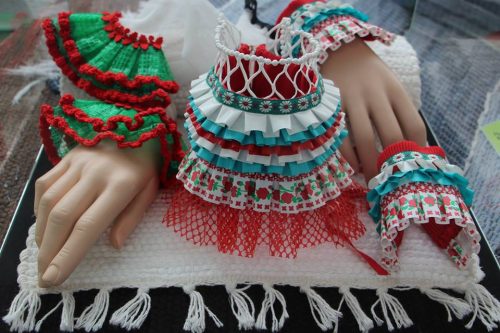 MARCH 2016
ARTICLE IN BANGKOK POST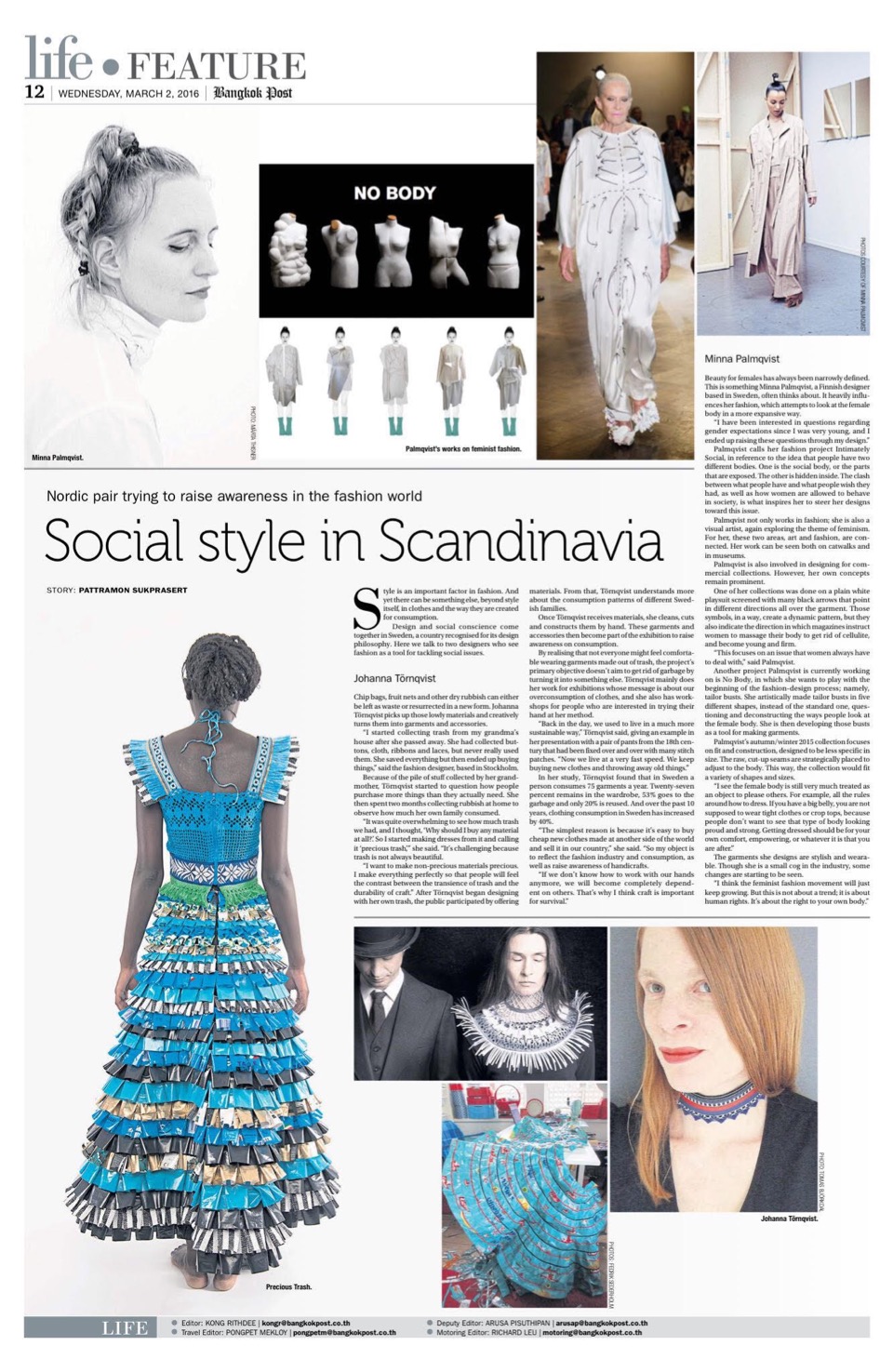 FEBRUARY 2016
ARTICLE IN  SUNDAY TIMES OF INDIA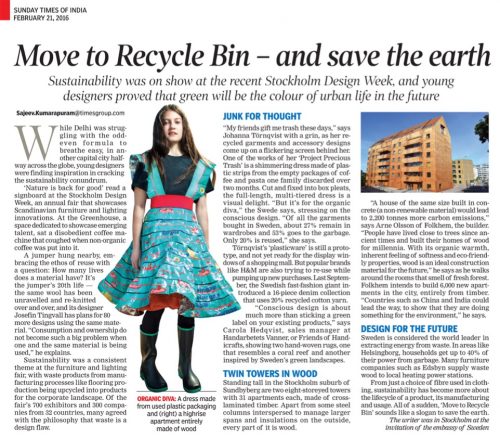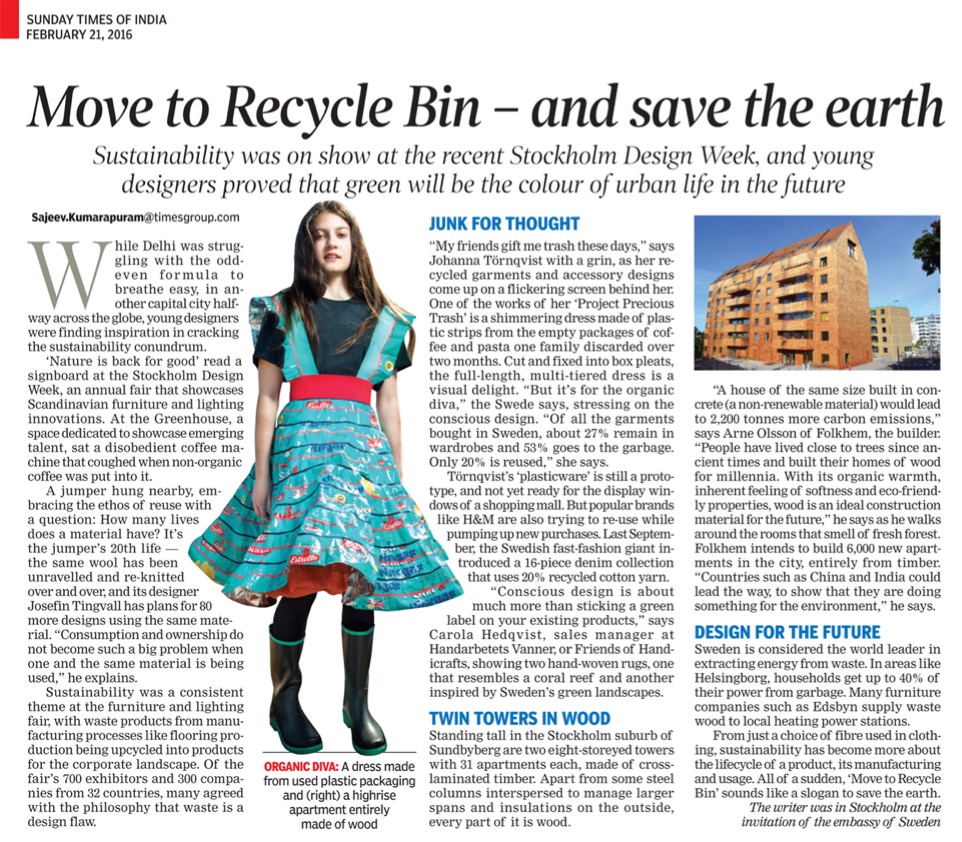 JANUARY 2016
GRANT FOR PROJECT PRECIOUS TRASH FROM
THE NATIONAL SWEDISH HANDICRAFT COUNCIL (NÄMNDEN FÖR HEMSLÖJDSFRÅGOR)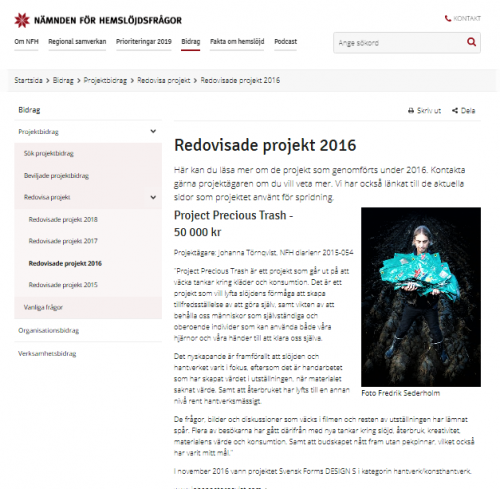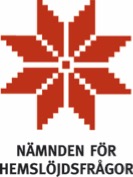 JANUARY 2016
ARTICLE IN SÖDERTÄLJEPOSTEN