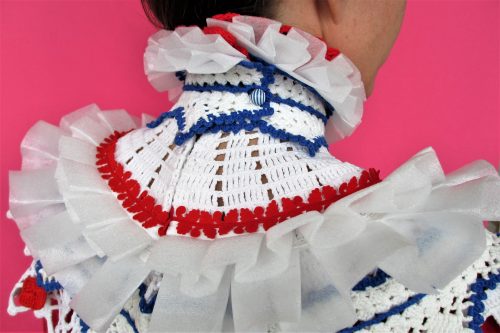 EDUCATION
1988-90 STUDIO BERÇOT, SCHOOL FOR FASHION AND DESIGN, PARIS
1992-93 ATELIERS BEAUX-ARTS, SCULPTURE, PARIS
1996-97 PARSONS SCHOOL OF DESIGN, CERAMICS, NEW YORK
1996-97 THE NEW SCHOOL FOR SOCIAL RESEARCH, ARTTHERAPY, NEW YORK
1998-2000 FOLKUNIVERSITETET, UPPSALA KONSTSKOLA, ARTTHERAPY, UPPSALA
SOLO EXHIBITIONS
2018 PROJECT PRECIOUS TRASH, HEMSLÖJDENS HUS, JÖNKÖPING
2017 PROJECT PRECIOUS TRASH, NK VILLAN, NYKÖPING
2017 PROJECT PRECIOUS TRASH, GALLERI BJÖRKEN, SUNNE KOMMUN
2017 PROJECT PRECIOUS TRASH, HÖGANÄS ART GALLERY
2017 PROJECT PRECIOUS TRASH, NATIONALMUSEUM, SWEDEN´S MUSEUM OF ART AND DESIGN, STOCKHOLM
2016 PROJECT PRECIOUS TRASH, FORM/DESIGN CENTER, MALMÖ
2016 PROJECT PRECIOUS TRASH, HV GALLERY, STOCKHOLM
2016 PROJECT PRECIOUS TRASH, NÄÄS ART AND CRAFTS, GÖTEBORG
REPRESENTED
2018 NATIONALMUSEUM, SWEDEN´S MUSEUM OF ART AND DESIGN, STOCKHOLM
2017 SÖRMLANDS MUSEUM, NYKÖPING
2016 LERUMS COUNTY, GÖTEBORG
2014 TEXTILMUSEET, TEXTILE FASHION CENTER, BORÅS
2009 RÖHSSKA MUSEET, MUSEUM OF FASHION, DESIGN AND DECORATIVE ARTS, GÖTEBORG
GROUP EXHIBITIONS
2019 SOPOR ÄR BRA / GARBAGE IS GOOD, RIAN DESIGNMUSEUM, FALKENBERG
2019 ART TOUR,  EBELINGMUSEET,  TORSHÄLLA
2018 THE 6th EUROPEAN TRIENNAL OF CONTEMPORARY JEWELLERY, LES ATELIERS DE PARIS, PARIS
2018 CRAFT+CONFLICT, HIGHLIGHT CONTEMPORARY CRAFT TOUR, UK
2018 THE 6th EUROPEAN TRIENNAL OF CONTEMPORARY JEWELLERY, GUSTAVSBERGS ART GALLERY
2017 THE 6th EUROPEAN TRIENNAL OF CONTEMPORARY JEWELLERY, WCC-BF, BELGIUM
2016 DESIGN S, ARKDES, MUSEUM OF ARCHITECTURE AND DESIGN, STOCKHOLM
2016 BLACK BOX, PHILMONT, NEW YORK
2016 ORSA CULTURE HOUSE, ORSA
2016 NATIONALMUSEUM, SWEDEN´S MUSEUM OF ART AND DESIGN, STOCKHOLM
2016 RÅNÄSSALONGEN, RÅNÄS CASTLE
2016 GREEN ROOM, TEKNISKA MUSEET, STOCKHOLM
2015 POP_IN KONSTHANTVERKARNA, GNESTA
2015 FÖTTER – RÖRELSER GENOM SLÖJDEN, VÄXJÖ ART GALLERY
2015 KURBITS PÅ TRÄSLOTTET, ARBRÅ, HÄLSINGLAND
2015 FASHION & CRAFT, ALL-RUSSIAN DECORATIVE ART MUSEUM, MOSCOW
2015 MODERNT HANTVERK, KONSTHALL MÄRSTA, SIGTUNA MUSEUM & ART
2014 STILMEDVETEN, FORM DESIGN CENTER, MALMÖ
2014 REINSTEIN/ROSS GALLERY, NEW YORK
2014 TEXTILCHOCK, TEXTILMUSEET, TEXTILE FASHION CENTER, BORÅS
2014 SMYCKA HALSEN, KONSTHANTVERKARNA, STOCKHOLM
2013 UNIK VÅR, KONSTHANTVERKARNA, STOCKHOLM
2012 NEEDLEWORKS, GALERIE HANDWERK, MUNICH
2012 HEMSLÖJDEN 100 ÅR, LILJEVALCHS MUSEUM, STOCKHOLM
2012 EVERYDAY BEAUTY, SOFIERO CASTLE, HELSINGBORG
2012 SIGNERAT, FALKENBERGS MUSEUM, FALKENBERG
2011 KURBITS, KONSTHANTVERKARNA, STOCKHOLM
2011 SIGNERAT, ARKITEKTURMUSEET, MUSEUM OF ARCHITECTURE AND DESIGN, STOCKHOLM
2011 EN KORT OCH EN LÅNG, KONSTHANTVERKARNA, STOCKHOLM
2011 HAUTE COUTURE, RÖHSSKA MUSEET, MUSEUM OF FASHION, DESIGN AND DECORATIVE ARTS, GÖTEBORG
2010 VINTERSAGA, KONSTHANTVERKARNA, STOCKHOLM
2010 HAUTE COUTURE, KONSTHANTVERKARNA, STOCKHOLM
2010 GLOURIOUS WEDDING, KONSTHANTVERKARNA, STOCKHOLM
2010 HERR PETER OCH PARADISET, KONSTHANTVERKARNA, STOCKHOLM
2010 NY GIV, NYA TALANGER, KONSTHANTVERKARNA, STOCKHOLM
2010 PARIS-JÄRVSÖ, ANTIKMÄSSAN, STOCKHOLM
2010 HANDMADE, FORMEX, STOCKHOLM
2009 KONSTSLÖJDSALONGEN, RÖHSSKA MUSEET, MUSEUM OF FASHION, DESIGN AND DECORATIVE ARTS, GÖTEBORG
2000 NATIONALMUSEUM, MUSEUM OF ART AND DESIGN (THE SHOP), STOCKHOLM
2000 KONSTHANTVERKETS VÄNNERS STIPENDIATER, KONSTHANTVERKARNA
1997 MUSÉE DES ARTS DÉCORATIFS, MUSEUM OF DECORATIVE ARTS (THE SHOP), PARIS
1996 GALERIE EPONA, PARIS
1995 GALERI NØRBY, COPENHAGEN
AWARDS
2016 DESIGN S, SWEDISH DESIGN AWARD, SWEDISH SOCIETY OF CRAFTS AND DESIGN. Winner in the category of crafts.
2013 NORDIC ART INSIGHT, SVANEN, NORDIC ECOLABELLING´S ART CONTEST. Selected as one of the finalists.
COMMISSIONS
2018 YESTERDAYS CRAFT BECOMES TOMORROWS DESIGN, COLLECTION FOR SÖRMLANDS MUSEUM
2018 COSTUMES FOR MOMO, SCHOOL OF THE ARTS, GNESTA
2017 SUSTAINABLE HOME, SÖRMLANDS MUSEUM
2016 CHRONICLES FOR SÖRMLANDS NEWS
2016 COSTUMES FOR DON QUITJOTE IN THE STORM, LÅNGSJÖ THEATER, GNESTA
2014 YESTERDAYS CRAFT BECOMES TOMORROWS DESIGN, COLLECTION FOR SÖRMLANDS MUSEUM
2011 SILHOUETTE, COLLECTION FOR DESIGN HOUSE STOCKHOLM
LECTURES/TALKS/WORKSHOPS
2019 RETUNA RECYCLINGMALL, ESKILSTUNA
2019 EBELINGMUSEET,  TORSHÄLLA
2019 HEMSLÖJDEN, KARLSKRONA
2018 STADSVAKTEN, NYKÖPINGS MUSEUM OF CULTURAL HERITAGE
2018 BIOLOGICAL MUSEUM, BIOLOGISKA MUSEETS VÄNNER, STOCKHOLM
2018 JÖNKÖPINGS LÄNS MUSEUM
2018 HEMSLÖJDENS HUS, JÖNKÖPING
2018 ÖSTERLENSKOLAN, SCHOOL FOR ART AND DESIGN
2018 BLEKINGE MUSEUM
2018 NÄMNDEN FÖR HEMSLÖJDSFRÅGOR, THE NATIONAL SOCIETY FOR SWEDISH HANDICRAFT
2018 KRISTINEHAMN ART MUSEUM
2017 BJÖRKEN GALLERY, SUNNE KOMMUN
2017 STENEBY SKOLAN, HDK, ACADEMY OF DESIGN AND CRAFTS
2017 NOT QUITE FENGERSFORS
2017 PLATINA, GALLERY FOR CONTEMPORARY JEWELLERY
2017 MARABOUPARKEN ART GALLERY
2017 DESIGNMUSEUM DENMARK
2017 CRAFT FESTIVAL GOTLAND
2017 NATIONALMUSEUM, SWEDEN´S MUSEUM OF ART AND DESIGN
2017 ETNOGRAFISKA MUSEET, WORLD CULTURAL MUSEUM
2016 HEMSLÖJDEN, THE NATIONAL SOCIETY OF SWEDISH HANDICRAFT
2016 LINKÖPINGS UNIVERSITY, CRAFT AND DESIGN
2016 SÖRMLANDS MUSEUM
2016 ÖSTERLENSKOLAN, SCHOOL FOR ART AND DESIGN
2016 MARABOUPARKEN ART GALLERY
2016 RETUNA RECYCLING MALL
2016 FORM/DESIGN CENTER
2016 FRIENDS OF HANDICRAFT
2016 ISTANBUL MODA ACADEMY, ISTANBUL
2016 NÄÄS ART AND CRAFTS
2016 TEKNISKA MUSEET
2016 THE NATIONAL SOCIETY OF SWEDISH HANDICRAFT IN SÖRMLAND
2016 THE SWEDISH INSTITUT
2015 VÄXJÖ ART GALLERY
2015 KONSTHANTVERKSCENTRUM, THE CENTER OF CRAFTS
2015 ALL-RUSSIAN DECORATIVE ART MUSEUM, MOSCOW
2015 KUL1415, THE CULTURAL YEAR FOR CHILDREN AND YOUNG PEOPLE, STOCKHOLM
2014 FORMEX DESIGN FAIR
2014 TEXTILMUSEET, THE TEXTILE FASHION CENTER, BORÅS
2014 BECKMANS COLLEGE OF DESIGN
PUBLICATIONS
2017 EUROPEAN TRIENNAL FOR CONTEMPORARY JEWELLERY 2017, WCC-BF
2016 NEW NECKLACES 400 designs in contemporary jewellery, Nicolas Estrada, Promopress
2012 JEWEL BOOK International Annual of Contemporary Jewel Art, Sttichting Kunstboek
GRANTS
2018 KONSTNÄRSNÄMNDENS RESEBIDRAG, THE SWEDISH ARTS GRANTS COMMITTEE
2018 HELGE AX:SON JOHNSONS FOUNDATION
2016 NÄMNDEN FÖR HEMSLÖJDSFRÅGOR, THE NATIONAL SWEDISH HANDICRAFT COUNCIL
2015 LANDSTINGET SÖRMLANDS CULTURE GRANT
1996 ESTRID ERICSONS FOUNDATION
1996 KONSTHANTVERKETS VÄNNERS GRANT
1994 SVENSKA BYGGNADSARBETAREFÖRBUNDETS CULTURE GRANT
1994 AUGUST RINGNÉRS CULTURE GRANT
MEMBERSHIPS
KONSTHANTVERKARNAS FÖRENING,Swedish Fine Crafts.
KONSTHANTVERKSCENTRUM,The Center of Crafts.
KRO/KIF, Swedish Artists National Organization and Association of Swedish Craftsmen and Industrial Designers.
KLIMT02 Art Jewelry.